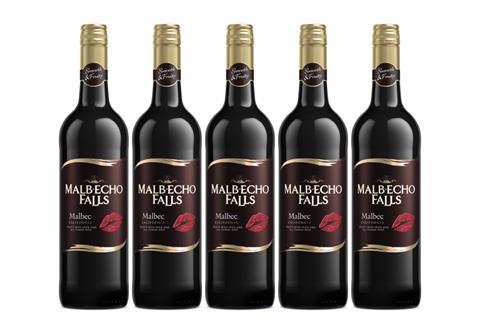 Echo Falls has segued into malbec with the launch of 'Malb-Echo Falls'.
The NPD (12.5% abv), is a Californian malbec billed as "a new premium offering" with "a flavour profile consisting of raspberries, cherries and blackcurrants, with toasted oak and a touch of mocha". It has rolled into Asda, Bestway, Ocado, Landmark Group and Today's (rsp: £6/750ml).
Owner Accolade Wines said the launch would tap "the huge boom in USA malbec varietal wine, which is growing at 19% year on year".
Californian malbec was "successfully attracting new shoppers to the red wine category", added Accolade marketing director David White.
"Echo Falls is perfectly placed to drive further category growth and consumer interest in malbec as it is a brand of mass scale and popularity, which gives consumers the confidence to try a new style of wine."
It's the latest in a series of brand extensions from Echo Falls to hit the market over recent months: the sparkling ProsEcho Falls launched in December 2018, followed by Echo Falls Summer Berries Gin in May.
Echo Falls vodka, which the brand launched in 2017, has already enjoyed significant success in the off-trade, with sales shooting up 295% (£5m) to £6.8m over the past year alone [Nielsen 52 w/e 20 April 2018].
However, the total brand is in decline, with overall sales down 11.1% (£18.3m) to £146.4m.