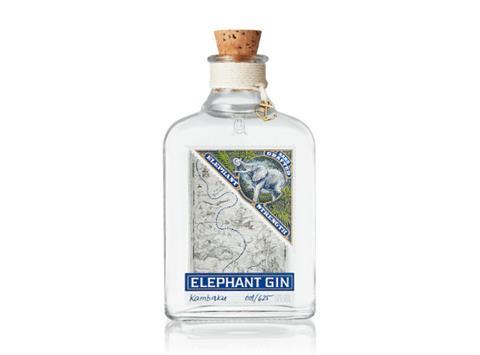 Elephant Gin, the spirit label founded to help raise money for the protection of African elephants, has unveiled a 'navy strength' tipple.
Elephant Navy Strength Gin, a stronger take on the German brand's London Dry variant, has an abv of 57%. It is distilled using 14 botanicals, including African ingredients such as the buchu plant, similar to blackcurrant, and artemisia afra (wormwood), which has a sharp floral note.
The handcrafted spirit, sold exclusively through Whisky Exchange for one month (rsp: £37.50/50cl), is blended with pine needles and apples sourced from the orchards surrounding the distillery, east of Hamburg.
Established in South Africa in 2013, Elephant Gin donates 15% of proceeds to two African elephant foundations: Big Life Foundation and Space for Elephants. Each year, more than 35,000 elephants die because of uncontrolled ivory poaching; one every 15 minutes, according to the spirit brand.