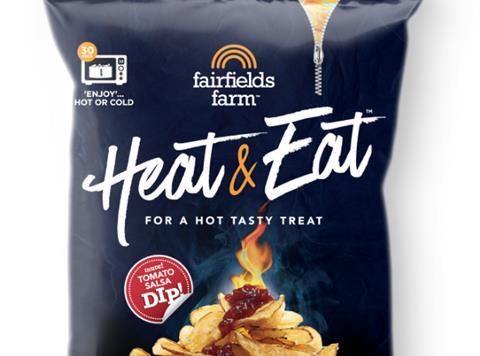 Fairfields Farm has launched a range of microwaveable potato crisps with dip – which the artisanal snack maker claims is a UK first.
Heat & Eat comes in patented triple-layered packaging that allows the contents to heat up while remaining crunchy. This would allow consumers to taste the crisps as if they were fresh out of the fryer, said Fairfields.
The result of a year's development, two variants will arrive on 11 September: sea salted with tomato salsa dip, and cheese & chive with caramelised onion dip. Each 175g pack comprises 125g of crisps and 50g of dip (rsp: £2.49).
Heat & Eat came in a bid to "revitalise the snacking market and give consumers a whole new eating experience" the brand said.
The handcooked crisps market was "quite mature, with innovation centring on flavours rather than concepts" added Fairfields founder Robert Strathern. "We've come up with something that's not only unique, but also creates a whole new snacking occasion."
The launch will be backed by a partnership with entertainment app Shazam, allowing shoppers to scan their packs to be sent to the Heat & Eat portal, which features video and product information.