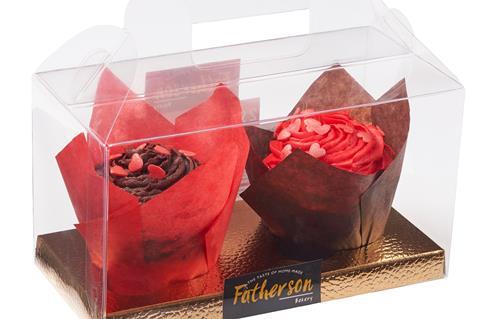 Warwickshire's Fatherson Bakery is eyeing 25% growth in 2020 as it prepares to roll out a raft of innovation over the coming months, starting with two giftable lines for Valentine's Day.
The 4.5-inch Chocolate Heart Shaped Cake (rsp: £5) and a two-pack of Valentine's Cupcakes (rsp: £4) will land in the likes of Co-op, Spar and Budgens from early February – as the artisanal supplier aims to accelerate the sales uplift it enjoyed last year.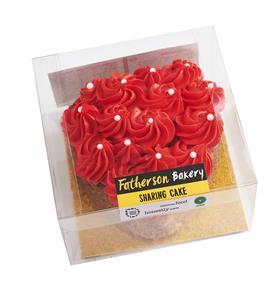 Turnover increased by 8.3% to "close on £5m" said Laurence Smith, the former Unilever and United Biscuits executive who acquired Fatherson in January 2019 with his wife Megan Smith and their business partner Mark Lewis.
As part of a two-year development programme, the new owners launched 2Go gluten-free snack bars, delisted 12 of Fatherson's low-selling SKUs such as coconut & lime loaf cake, and reformulated its large and demi sponge cakes, making them "lighter, fluffier, and closer to homemade" according to Smith.
The 13-year-old bakery also introduced sustainable packaging across its portfolio, using 100% recycled plastic boxes and bio-plastic wrap.
And it achieved zero landfill and zero food waste through a partnership with waste management and recycling company Fortress.
Fatherson now intends to add a glut of NPD, with giftable new lines for Mother's Day and Easter set for the spring.
They will be followed by four-packs of Cherry Bakewells, Mince Tarts with a biscuit crumble topping, Mini Victoria Sponges, and Lemon Drizzle Bombs made with the same recipe as Fatherson's bestselling Lemon Drizzle loaf cake. Each will feature the brand's new, more prominent branding.
The summer will see the relaunch of the supplier's traybake lineup with new variants and giftable packaging made from cardboard and bio-plastic wrap. A "vegan offer" would then appear later in the year, Smith said.