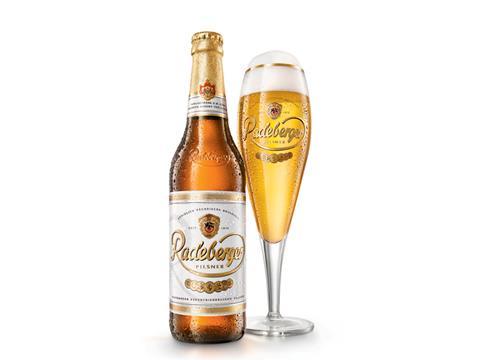 Radeberger Pilsner is to make its UK debut – 145 years after being founded in Germany.
Established in 1872, the 4.8% abv beer is brewed in the town of Radeberg, and claims to be one of the first German Pilsners. It began exporting in 1879 and is now available to almost 90 countries. The British launch came in response to "UK consumers reportedly drinking less, but trading up to more premium offerings", said the brand owned by Radeberger Group, part of the Oetker Group.
It will be available in two bottle formats for the off-trade – 500ml (rsp: £2) and 6x330ml (rsp: £6.50) – as the first beer line from drinks distributor Copestick Murray.
The move into beer had been "only a matter of time" following the business' diversification from wine into premium mixers and spirits, said Robin Copestick, managing director of Copestick Murray – also part of the Oetker Group via Henkell, a German wine producer.
"Radeberger is a truly great brand, the beer is fantastic, and the fact we are part of the same group is even better," Copestick added. "We already have many customers who are interested in the product, and over the next few weeks, we will be finalising our brand plans and commercial proposition."