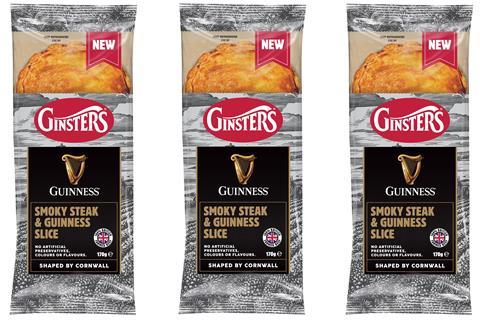 Ginsters has partnered with Guinness to launch a Smoky Steak & Guinness Slice.
The new slice combines 100% British-farmed beef with potato, vegetables, black treacle, garlic, gravy and Guinness, and is infused with smoked salt.
It is said to tap into both the rise in at-home meal occasions and the "fast-growing" demand for premium flavour experiences.
It roll out at Tesco, Asda and Morrisons from 15 March, ahead of St Patrick's Day on 17 March (rsp: £1.80/170g).
Guinness GB head Neil Shah said Guinness and food was an "iconic combination", and teaming up with the pastry brand was "a celebration of our unique heritages and shared values, bringing together the best of our regions, all whilst having fun with flavours and bringing consumers something new".
It's the latest in a number of co-partnered launches for Ginsters, including its tie-up with Quorn on a range of vegan lines including the Vegan Peppered Steak Slice and Vegan Quorn Sausage Roll.