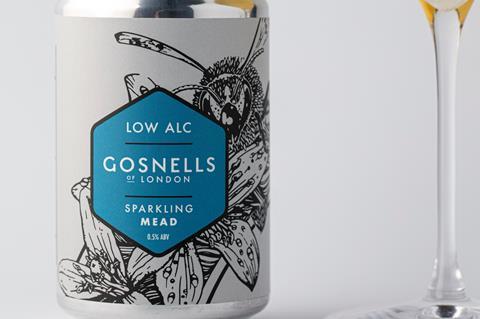 Gosnells Mead has made its debut in low and non-alcoholic booze.
The brand has created a 0.5% abv gluten-free sparkling mead, Gosnells Low Alc, into 330ml cans, bringing its range of meads to five-strong.
The drink is made with a blend of different European honeys, and comes in at 60 calories per 330ml can (rsp: £2.49).
It would "reach out to those wanting big, exotically delicious flavours", said the brand's founder Tom Gosnell.
The choice to pack its drinks in craft-style 330ml cans rather than the 75cl bottles traditionally used to sell mead were "part of our attempt to revolutionise the word 'mead' and to demonstrate the amazing range of flavours which bees of all nationalities, regions and postcodes can create".
Mead is made by fermenting honey with water and yeast. In the case of Gosnells Low Alc, the brand used an acetic acid bacteria to convert the alcohol in the drink into acetic acid, and lactobacillus bacteria, which turns sugar into lactic acid.
This combination of micro-organisms (including the yeast) "provide the puckering sourness and depth of flavour, with our honey still sensuously smiling through", said Gosnell.
It will be available from 1 January to the on and off-trade. A distributor is yet to be confirmed.
William Reed – the publisher of The Grocer – has launched a new trade exhibition exclusively for the low and no-alcohol sector. For more information visit www.low2nobev.com