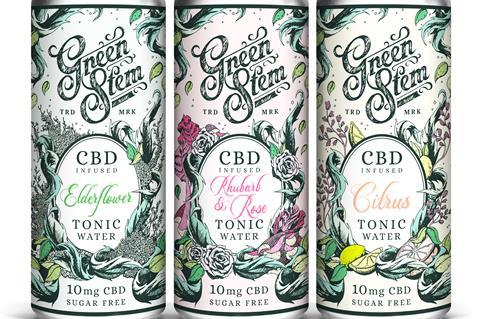 CBD brand Green Stem has made its first foray into mixers with a trio of tonic waters.
The drinks are made using hemp oil form US-grown hemp, and contain 10mg of broad-spectrum CBD per 250ml can,
They also contain extracts of quassia, a bitter wood the brand said was known for its zesty flavour, and cinchona bark, which contained "a high level of digestion-aiding quinine".
Green Stem said it was "among the first" to use botanically-infused quinine instead of chemical extraction.
Three flavours – Rhubarb & Rose, Citrus and Elderflower – have launched online (rsp: £3/250ml). Green Stem CBD told The Grocer it was in "conversations" with nationwide distributors, stores and drink outlets.
It's the latest in a deluge of brands breaking into CBD. Last week alone saw the launch of In Tune, which was created by former drinks PR specialist Hannah Glasson, and a customisable cocktail range by London startup Kolibri Drinks.

Demystifying Hemp & Cannabidiol
The CBD Global Summit is a brand new two-day conference that brings together cutting edge science, regulatory know-how and consumer insight that businesses need in order to explore the CBD opportunity
A conference brought to you by The Grocer, FoodNavigator, NutraIngredients and CosmeticsDesign