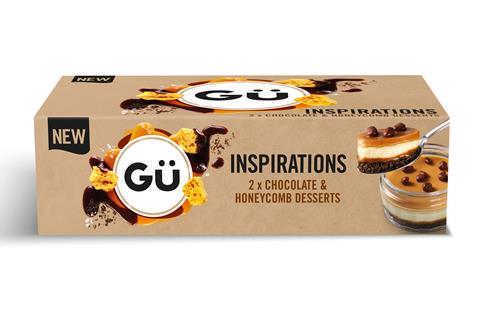 Gü has added a trio of 'Inspirations' desserts inspired by "American bakery treats".
The trio – Red Velvet, Cookies & Cream and Chocolate & Honeycomb – are targeted at younger shoppers seeking a point of difference, according to the brand.
Chocolate & Honeycomb comprises a chocolate biscuit base and caramel sauce, topped with "indulgent" chocolate and honey ganache, while Cookies & Cream has a dark chocolate cookie dough base topped with a Jersey cream layer and cookie sprinkles.
Red Velvet, meanwhile, has a red velvet biscuit base, topped with a mascarpone cheese frosting and red velvet biscuit crumbs.
They will roll out into the mults from 31 March (rsp: £3.40/82g-86.5g).
Younger adult shoppers were "often on the lookout to try something new", said Gü marketing director Amy Heap.
"All three flavour profiles are growing in popularity across other categories, particularly among younger shoppers – an audience where there is the opportunity to increase the number of people buying into chilled desserts and their purchase frequency."