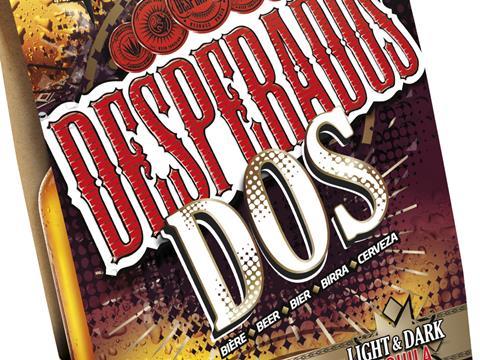 Heineken has unveiled a Desperados variant aimed at young adults thirsty for premium beer suited to later evening drinking.

Flavoured with both light and dark tequila, Desperados Dos is a 7% abv brew in a 250ml bottle - making it stronger and smaller than the brand's other options, which are typically 5.9% and 330ml (rsp: £5/3x250ml).

The NPD would drive more shoppers into the beer category by focusing on "the 'shift' moment in the late-night drinking occasion", according to David Lette, premium brands director at Heineken. Reduced carbonation made Dos smoother to drink and "perfect for moving the tempo" into spirits.

Available from this month and aimed at consumers aged 18 to 24, Dos was "built on UK consumer insight", after other variants such as Red had underperformed with British drinkers, said Lette.

It is set to be supported by a multimillion campaign with 'disruptive visibility' across OOH, digital and POS.