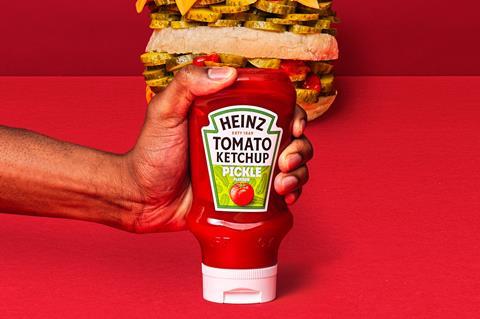 Heinz has jumped on gen Z shoppers' growing appetite for pickles with the launch of a pickle-flavoured ketchup.
The table sauce, which is billed as tasting "just like a burger", has rolled into Tesco packaged in squeezy 460g bottles (rsp: £3.39).
"We're always thinking about how we can play with the unmistakeable taste of our ketchup," said Heinz head of comms and brand build Thiago Rapp.
"We know there are lots of pickle fans out there, so it made sense to bring two of the nation's favourite flavours (Heinz Tomato Ketchup and tangy pickle) together."
It comes as demand for pickles is "booming", according to Heinz, with over 5.4 billion views of TikTok videos posted with the hashtag #pickle by the time of writing.
Over recent months, people have taken to the social media in their droves to accept the challenge of eating a Van Holten's Pickle-in-a-Pouch with a variety of unlikely accompaniments.
The trend has encouraged many UK convenience stores to stock US brand Van Holten's alongside other imports, such as Takis and Tajin.
Pickle Ketchup is not Heinz's first innovation to be developed in response to a viral social media trend.
For instance, it teamed up with Absolut to launch a vodka pasta sauce in March, which it said was inspired by model Gigi Hadid's viral recipe.