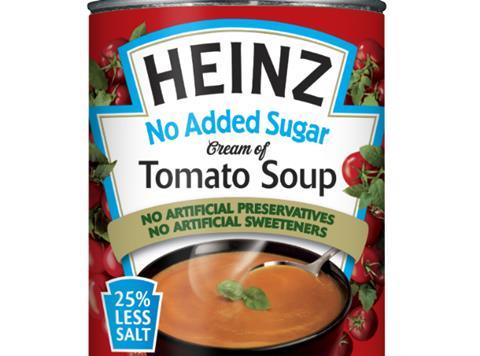 Kraft Heinz is making another move to revive its waning canned soup portfolio by tapping demand for healthier options.
The supplier has unveiled Heinz No Added Sugar: unsweetened versions of its most popular Classic recipes, including Cream of Tomato, Vegetable and Cream of Chicken (rsp: 95p/400g). The NPD is significantly lower in sugar than the original soups – with the new tomato variant, for example, at 2.6g per 100g, 46% less than the Classic's 4.8g.
No Added Sugar will roll out in July, replacing the Heinz Balance soup range, which offers 25% less salt across four recipes. The new lineup has about the same reduced salt level.
The change in ranges came with healthier eating "a concern for consumers, with one in five placing low sugar and salt within their top five criteria for buying soup", according to Heinz, which this year has added reduced sugar options in other categories, including ketchup. "With the success of the no added sugar portfolio in other categories, we wanted to launch the new Heinz soups with a clearer, more powerful message," said Kiran Dhaliwal, brand manager for soups.
Heinz has also added two Big Soup variants. Veg & Bean Stew offered two of the 5 a day, while Pulled Pork & Vegetable Casserole tapped into the ongoing pulled meat craze, Heinz said. Both will be available from the beginning of next month (rsp: £1.59/500g).
Making their debut only days after the introduction of Soup of the Day, Heinz's first-ever wet ambient soup range in a carton, the latest launches follow a torrid 2016 for Heinz soup. The supplier saw sales of its Classic canned soup nosedive last year by 15.2% (£23.5m) to £131.7m, while Big Soup fell 10.9% (£2.8m) to £22.9m [Nielsen 52 w/e 8 October 2016].
The NPD will be supported by a campaign from the end of September.