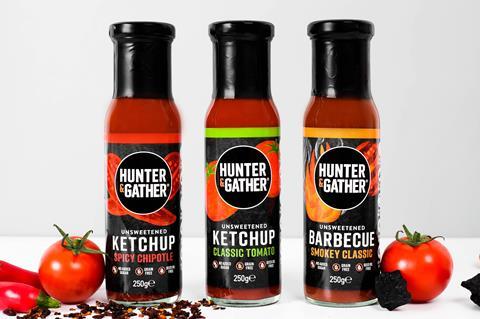 Hunter & Gather is launching what it claims is the UK's first "truly ketogenic ketchup".
The sauce brand has unveiled a trio of sauces, all made using organic tomatoes and with no added sugar, dates, fruits or sweeteners.
They are: Unsweetened Classic Tomato, Unsweetened Barbecue and Unsweetened Spicy Chipotle.
The sauces use a "carefully crafted" blend of spices and vinegars for a tangy finish, and are claimed to contain 79% less sugar than the "leading player" in the category.
Hunter & Gather said the trio was suitable for diabetics as well as those following a paleo, gluten-free or keto diet.
Co-founder Amy Moring said other no added sugar-claiming ketchups on the market showed "an alarming natural sugar presence" from added syrups, sugary fruits or sweeteners.
The unsweetened ketchup range will hit Booths, Amazon and Hunter & Gather's online store (rsp: £3.59/250g).
The launch follows the supplier unveiling a new look earlier this month as it looked to underpin its position as "an optimal health brand".
The brand has taken time to "review, reassess and refine the look and language" of its range of sauces and condiments and said it had "bedded down a distinct brand identity that can effortlessly accommodate future range growth".