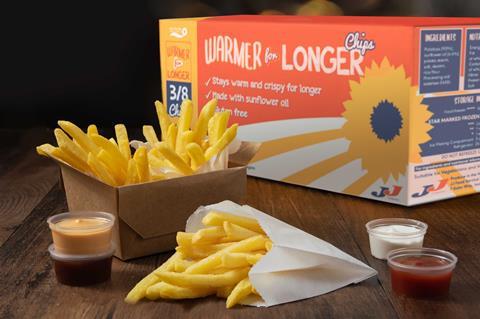 JJ Foodservice has launched 'Warmer for Longer' chips aimed at the buoyant takeaway market.
The chips are part of the wholesaler's Super Crisp Chip brand and are designed to stay hotter and crispier in takeaway packaging. They are made with sunflower oil in a gluten-free environment.
The new product has been introduced with a promotional price of £4.99, down from £8.99, for four 2.27kg cases until 31 December.
The London-based wholesaler began the research and development process for the product in the first lockdown as takeaway sales soared due to eat-in hospitality venues being forced to shut in a bid to curb the spread of the coronavirus.
"Restaurants and pubs have had to adapt overnight with online ordering and takeaway menus to keep trading," said JJ Foodservice chief product officer Sezer Ozkul.
"But not every dish travels well. Our new Warmer for Longer chips are designed to stay hot and crispy even during the home delivery process. After the surge in home food deliveries, we knew we'd need to support our restaurant and pub customers with a more 'delivery-durable' chip."