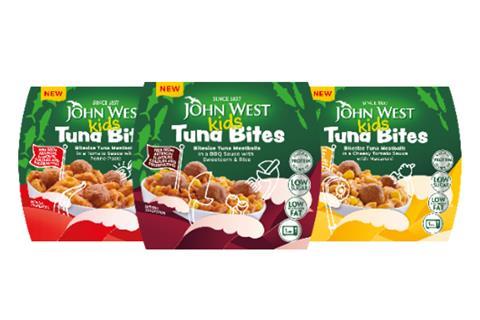 John West has unveiled two new tuna meatball-based ready meal ranges ahead of the start of the new school year.
The canned fish brand's Tuna Bowls (rsp: £2.49/220g) and Bites for Kids (rsp: £1.79/160g) – its first-ever product specifically aimed at children – will roll into Asda stores from Thursday (27 August).
The Tuna Bowls were said to offer a "convenient, light meal" aimed at health-conscious consumers leading fast-paced lives, according to John West. Meanwhile, the Bites for Kids offered a "quick nutritious meal" for after school.
Both ranges come in three variants and contain tuna meatballs in a sauce with a variety of vegetables and either pasta, beans or rice.
John West said the NPD launches were a continuation of its strategy to move ambient fish from "the back of the cupboard to front-of-mind".
"As a brand, our focus is on making eating fish easy for everyone," said marketing director Jon Burton.
"Our unique tuna meatballs are an extension of that. Government guidelines recommend eating at least two portions of fish a week, and the Tuna Bowls and Bites offer an easy way to incorporate that fish into your diet."
The announcement coincides with the beginning of the new academic year, with many schools set to return next week (2 September).