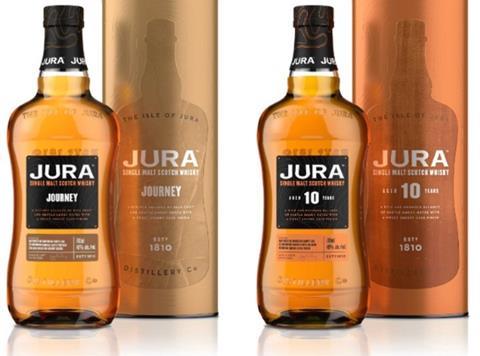 Scotch whisky brand Jura is launching a five-strong core range in an effort to broaden its appeal and attract new drinkers.
The new lineup consists of five single malts with rsps from £33 to £75. Jura Journey, Jura 10 and Jura 12 (40% abv) are joined by Seven Wood (42% abv) and Jura 18 (44% abv) - all set to roll out from April.
The brand was "on the brink of something quite remarkable" said Jura global head of brand Kirsteen Beeston. "We now confidently feel we have landed on a proposition with real consumer resonance."
The brand's current whiskies - Including Superstition, Origin, Prophecy and Diurach's Own 16 - will be sold until stocks finish, many having seen their value sales fall during 2017. Supermarket sales of Origin were down 8.9% (£897k) to £9.7m last year, while Prophecy plunged 53% (£208k) to £179k. However, Superstition's value rose 2.3% (£106k) to £4.8m [Nielsen 52 w/e 9 September 2017].