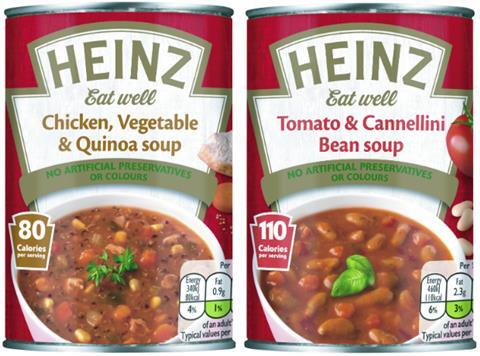 Kraft Heinz is making another attempt to revive the beleaguered ambient soup category by launching Heinz Eat Well for healthier eating.
The four-strong canned range (rsp: £1.19/400g) comprises "balanced soups made from ­wholesome ingredients" such as vegetables, grains and pulses.
Intended to appeal to the calorie-conscious, Eat Well contains between 35kcal and 55kcal per 100g. Variants are Tomato, Spinach & Lentil Soup; Tomato & Cannellini Beans; Chicken, Vegetable & Quinoa and Butternut Squash & Chickpea.
Available from 21 July, the quartet was aimed at the "73% of shoppers trying to lead a healthy lifestyle and 69% in agreement that 'diet is very important to them'" said Kraft Heinz, which predicted sales of £2m by the end of 2018.
The launch of the Eat Well range highlighted "a shift in consumer eating that is moving away from 'low' and 'no', and ­looking towards more of an overall positive nutrition approach" said Laure Gentil, Heinz soup brand manager.
"Not only that, we've also included a range of nutritionally rich ingredients such as quinoa, beans and lentils that are on trend in other parts of the store."
Last year, Heinz made two major moves to revive the UK's ambient soup market, which lost £12.8m of value [Nielsen 52 w/e 9 September 2017]. The supplier first launched its canned No Added Sugar Range and then Soup of the Day in cartons. The two ranges ended 2018 worth a total of £4.1m.