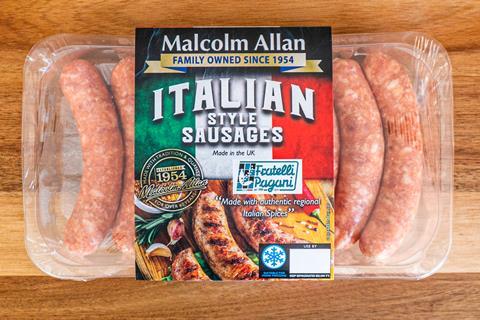 Scottish butcher Malcolm Allan has gone into partnership with Italian ingredients supplier Fratelli Pagani to launch a new pork sausage range into Sainsbury's.
Best known for its lorne sausage products, the Falkirk-based company has dual-branded three Italian sausage ranges – contadina, mild and spicy – with the supplier, and has secured listings in all of Sainsbury's Scottish stores (rsp: £3/500g).
The companies are also collaborating on a new Italian meatball recipe range.
Director Gordon Allan said: "They are based in Milan and focus on clean labelled products. My son Stewart can speak Italian so that made things a lot easier for all concerned. We import pork from the EU so we thought why not go the whole hog and import the pork from Italy."
He added: "Malcolm Allan are very proud of our existing product range and as we have been one of Scotland's top five brands for the past 10 years, we currently tick the boxes for Scottish consumers.
"What is exciting about the Italian products is it give us an opportunity to go south of the border whether it is via retail or foodservice as the lines are the same as if they were produced in Italy."
Closer to home, Malcolm Allan has also gone into partnership with Bruce Farms in Perthshire, to produce an apple and Scottish berry pie, which has secured listings in Tesco stores in Scotland. It is also working with McGhee's, whose potato scones feature in its Ultimate Scottish Breakfast pack.