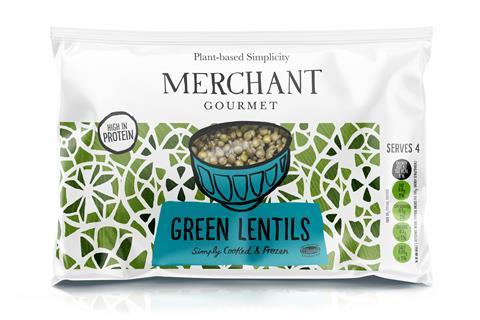 Merchant Gourmet is launching a new frozen range of pulses and grains.
Two SKUs – Green Lentils and White Quinoa – will roll into Ocado in June (rsp: £3.50/500g).
The products had been cooked and quickly frozen by a contract manufacturing partner, using an "innovative method to blow the cooked quinoa and lentils into the air", which prevented them from clumping together, said Merchant Gourmet.
This method made it easier for consumers to "quickly portion the lentils and quinoa when defrosting or cooking, targeting a time-poor but health-conscious consumer", added the brand.
Merchant Gourmet MD Richard Peake said the brand was on "a mission to encourage more people to eat more plants" and was "constantly finding more convenient ways to help people access plant-based food".
"We believe that plant-based food is better for the planet and have always sold ambient food because it's accessible and reduces food waste," he said.
Therefore, a move into frozen was "the next, natural step for us" as it was "even easier to portion and can be stored for longer periods of time".
"In recent years, easy-to-cook products have become increasingly popular with the frozen aisle getting more footfall than ever before, with consumers looking for healthy, convenient options that help reduce food waste and are better for the planet.
"We wanted to tap into this trend and reach new consumers that shop within this section of the supermarket to continue to work towards our mission."
The move comes after the brand recently launched two new ambient pouches into Ocado: Mediterranean-Style Grains with Tomato & Olive and limited-edition Fiery Jamaican-Style Grains & Pulses.
Both SKUs – along with additional products from Merchant Gourmet's ambient range – will be listed in Morrisons as part of its updated plant-based bay.