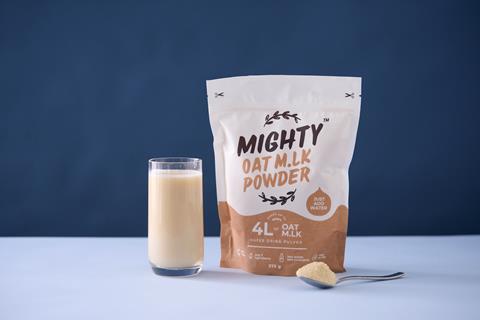 Dairy alternative brand Mighty is set to launch its first oat milk powder.
The powder is made using Mighty's enzymatically treated oat flour, dried with added coconut oil and salt. Featuring no preservatives or stabilisers and 2.6g of sugar per serving, it is aimed at reducing the carbon footprint of traditional milk alternatives, said the brand formerly known as Mighty Pea.
Mighty Oat M.lk Powder (rsp: £6.59/375g) will be listed by Amazon for the UK and Germany from 6 February. It will also be available from Mighty's webstore, with a wider rollout planned from March.
For high street stores, the powder would boost shelf availability by 266%, with the equivalent of 16 litres of the product fitting in a space for six litres of liquid.
"While the majority of plant milks offer customers a sustainable choice versus cows milk, there's a huge opportunity to improve the alternative milks category's eco-credentials even further," said Mighty co-founder Tom Watkins.
"Oat milk is primarily made up of water – nearly 90% of each carton – and the majority of its environmental impact comes from water usage, transporting heavy liquids and needing a specific packaging format to sustain shelf life," he added.
Oat M.lk Powder was "the perfect solution to improve on those eco-credentials while still keeping the flavour, texture and plant-based nutrition".