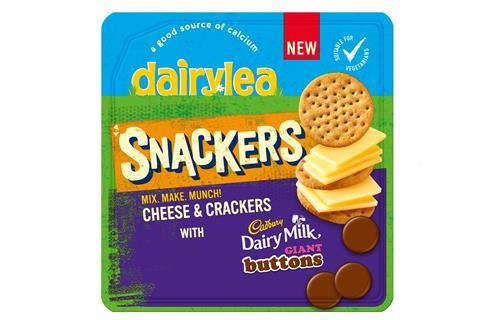 Mondelez has expanded its Dairylea lineup with NPD across its Snackers, Lunchables and Dunkers ranges.
The fmcg giant has added a Cadbury Giant Buttons variant (rsp: £1.65/76.8g) to the Snackers range it launched last April – which combines Mondelez brands such as Oreo with crackers and cheese – and racked up sales of £2.6m in the 12 months to 29 December 2018 [Nielsen].
"Buttons are the UK's number one kids confectionery brand and are the perfect choice to continue the Snackers success story," said Mondelez senior brand manager Rebecca Prout. The product went on sale nationally this month.
Dairylea will also add a Cheesy Cones variant to its Dunkers range from 1 April (rsp: £2.71/40g x4), and a Streetfood Pizza variant to its Lunchables range from 8 April (rsp: £1.65/65g).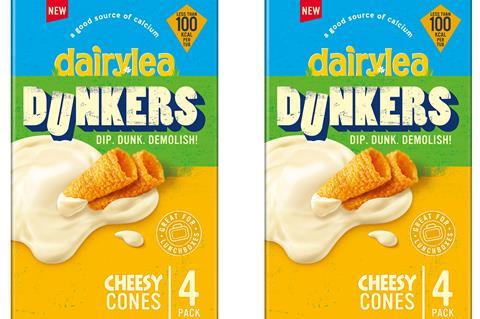 The Dunkers launch tapped into the consumer desire for "new and exciting range options", Prout said, and had tested really well with consumers due to their crunchiness, taste and scoopability.
Meanwhile, the new Lunchables Streetfood line combined Dairylea with mini pizza bases and a tangy pizza sauce. It came out as "the top concept" for innovation from consumers, she added, and would help it grow share in the snacking kits segment.
"With these three launches, we are confident Dairylea will continue to be the driver of growth in the processed cheese snacking category," Prout said. "Dairylea Lunchables is the number one brand in the growing snacking kits segment (worth double that of the next largest brand in the segment), and our focus on understanding what consumers want will continue to drive growth for retailers."
Mondelez said the new products would be a "key focus" in Dairylea's brand communication plan, which will include out-of-home, digital and social media advertising support.