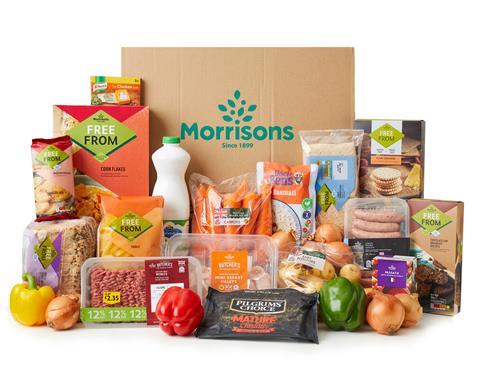 Morrisons has launched a box of gluten-free food essentials for home delivery during the coronavirus pandemic.
The box contains gluten-free pasta, biscuits and cereal, as well as a mix of fresh and food cupboard items such as cheese, vegetables and chicken breasts.
The boxes (rsp: £35) are available from today (30 April) for next-day delivery online at Morrisons.
They were created to "make home cooking easier for people that are gluten intolerant and cannot leave their home or are struggling to reach the supermarket", said Morrisons.
Free-from buying manager Charlotte Baldwin said the boxes would "keep many customers stocked up with food at this difficult time".
Morrisons started producing 10,000 food boxes per week at the beginning of lockdown, and said it expected to reach 200,000 over the coming weeks.
The news comes as gluten-free Brits are struggling to get hold of essential items as the coronavirus crisis develops.
Those with gluten-intolerance or Coeliac disease had stuggled to get hold of essentials such as pasta, bread and flour, due to other shoppers buying into the category when they couldn't get regular versions, Coeliac UK CEO Hilary Croft told The Grocer this week.