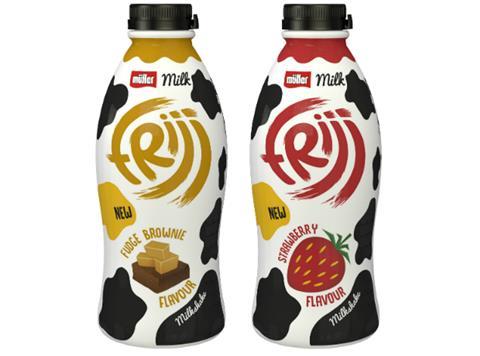 Müller has expanded its Frijj lineup with the brand's first-ever venture into larger bottles for sharing.

The dairy giant unveiled a 900ml variant (rsp: £1.50) of the flavoured milk brand last week in Strawberry and Fudge Brownie flavours, with listings in Asda to be followed in coming weeks by Tesco, Sainsbury's and Morrisons. Müller said it hadn't ruled out expanding the range to other flavours if successful.

The launch followed research by Müller that showed consumers wanted larger portions that could be stored in the fridge, and comes as it seeks to develop new usage occasions for the brand and target the take-home market alongside larger juices and soft drinks.

"Milk drinks are seen as a major area of opportunity for the dairy industry, and it's our job to constantly re-evaluate our portfolio and improve it to meet the changing needs of the consumer," said Müller chief marketing officer Michael Inpong.

Müller cut the size of its single-serve range by 71ml last year to 400ml, after the same consumer research found shoppers thought portions were too large, and in a bid to reduce sugar intake. However, the supplier kept its rsp at the same level of £1.30, citing a "new and improved recipe", which incorporated more costly ingredients.

"Consumers wanted a larger shareable portion and an on-the-go 400ml portion, and we're really excited to have both in the market," Inpong added.

"With Frijj, we're targeting new consumption occasions, offering zero added sugar alternatives, creating inspiring on-pack promotions and since last year, we've also brought Frijj back on to UK TV screens after five years away," he said.

The brand would back its new Frijj range with an increase in Müller's marketing spend of almost a quarter over the next three years, a spokesman said.