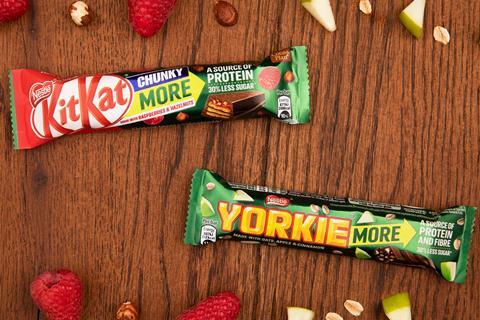 Nestlé has unveiled variants of Kit Kat Chunky and Yorkie with extra protein and less sugar – to form a healthier snacking range called More.
The chocolate bars are made with fruit, nuts and cereal to be a source of protein, while promising 30% less sugar than similar products.
Their introduction was "another step in Nestlé's ongoing work to innovate and develop its confectionery to provide better choices" said the Swiss food and drink giant.
Available from next week, Kit Kat Chunky More contains raspberries and hazelnuts. Each 100g offers 15.1g of protein. By comparison, a standard Chunky has 6.5g.
Yorkie More will go on sale later this year. It is made with oats, apple and cinnamon, with protein per 100g at 18.8g – compared to a regular Yorkie's 5.8g.
The bars (rsp: £1.29/42g) arrive via Nestlé's Global R&D Centre for Confectionery in York. They were "just the latest in a long line of achievements that have come from Nestlé's continued efforts to find new ways to improve confectionery and reduce sugar without compromising on taste and quality" the supplier said.
The More variants were "our next generation of chocolate bars" added Nestlé marketing director for confectionery Alex Gonnella. "Most importantly, both of them taste fantastic."
It comes after the company announced last month that its UK R&D teams had invented the first 70% dark chocolate made entirely from cocoa fruit. Set to make its debut in a Kit Kat in Japan, it is sweetened using the pulp of cocoa fruit.
Also last month, Mondelez unveiled Cadbury Dairy Milk 30% Less Sugar, following three years' development by the supplier's R&D teams in Reading and Bournville, using soluble maize fibre for sweetness.