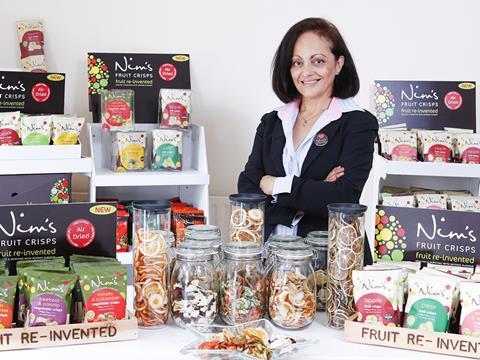 Nim's Fruit Crisps is set to launch a range of kids snacks in the UK after securing the largest ever raise on Tesco's crowdfunding platform Backit.
The Kent-based supplier surpassed its £20k campaign target by raising £22,761 of pledges from 71 backers for the children's range, which will feature dedicated packaging, smaller portion sizes and new single veg varieties.
This was more than double the amount raised by any other campaign on Backit to date, and demonstrated "the appetite in this country for healthier snacks and ones that parents feel happy to give their children", said founder Nimisha Raja.
Available from February, the Nim's kids range will initially comprise four variants of air-dried crisps – apple, carrot, courgette and pear (rsp: 75p/12-15g) – with "more adventurous" flavours to follow in the coming months. Each pack is certified by the Department of Health as counting towards one of the 5 a day.
The Backit money will be used to finalise packaging, attend consumer and trade shows and launch a "high profile" PR and marketing campaign, with some funds also put towards hiring a part-time sales person.
Raja added she was "locked in discussion" with a major retailer about multipacks of Nim's, and with a distributor who could get it into 5,000 UK schools.
Tesco Backit launched last September. Eight other small food and drink suppliers have successfully raised their funding targets of £5-£10k, with four campaigns still running.
"This is our largest ever raise on BackIt and proves that the platform is doing exactly what it was set up to do…to get fantastic independent producers out there in front of a captive audience," said Katie Hewitt, new business manager at Tesco BackIt.
The brand won Best New Idea at the 2016 Food & Drink Expo, which was judged by experts including The Grocer editor Adam Leyland.