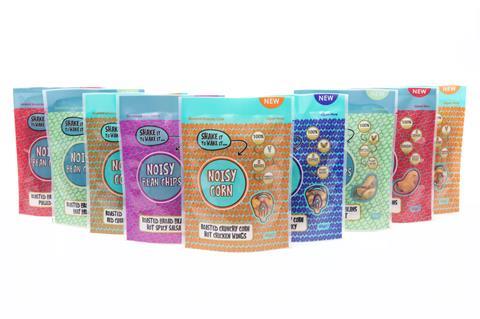 Noisy Snacks reformulated its nine-strong range of snacks and rolled out new 45g bags.
The new 45g pack range includes Noisy Corn Hot Wings, Noisy Corn Red Curry & Coconut, Noisy Corn Jamaican Jerky, Noisy Bean Chips Beef Brisket, Noisy Bean Chips Pulled Pork and Noisy Bean Chips Hot Spicy Salsa (rsp: £1-2/45g).
They had been reformulated to include double the amount of flavouring they previously held, said the brand.
The three Bean SKUs claim high protein and fibre content, with 10.7g protein and 7.8g fibre per 45g pack.
The "significant investment" comes as the brand embarked on a complete re-imagining of its portfolio, as revealed by The Grocer, in November.
Founder Noel Allen said he wanted the brand to be able to provide a wider "snacking solution" including healthier treats.