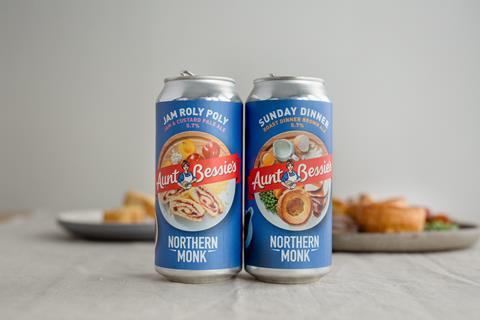 Aunt Bessie's has partnered with Northern Monk Brewery on a duo of limited-edition roast dinner beers.
The beers are themed around the courses of a "classic" roast dinner, the first being Roast Dinner Brown Ale (5.7% abv) and the second Jam & Custard Pale Ale (5% abv), which is billed as incorporating the flavours of an Aunt Bessie's Jam Roly Poly.
The Roast Dinner Brown Ale was brewed with Aunt Bessie's Yorkshire puddings and roast potatoes, while the Jam Roly Poly was brewed with plum, apricot and strawberry. They have launched online priced at £3.50/440ml or £6/2x440ml.
The brands claimed the beers were a UK and industry first, stating that they were the first brewery and food manufacturer to collaborate and create a two-course meal in liquid form.
Northern Monk founder Russell Bisset said they had "worked together to create something that's never been done before". He hoped it would bring "some well-needed positivity to the nation" he added.