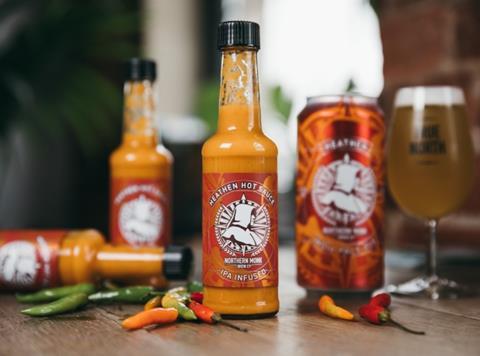 Leeds-based craft brewer Northern Monk has launched a second batch of its limited edition IPA hot sauce created with Manchester vegan street food brand Los Antojitos.
Only 60 bottles have been created of the sauce, which, when the first batch was launched last month, sold out in under two weeks. The sauce is made by infusing Northern Monk's Heathen IPA into Los Antojitos' Scotch Bonnet sauce.
Some 360 Scotch Bonnets were used to produce the 60-bottle run, with the introduction of IPA adding "depth to the specially developed recipe", said Los Antojitos director Kelly Bucher. The sauce has a Scoville scale score of 300,000.
It will be available exclusively through Northern Monk's web shop this Thursday (26 July), priced at £4.50/150ml.