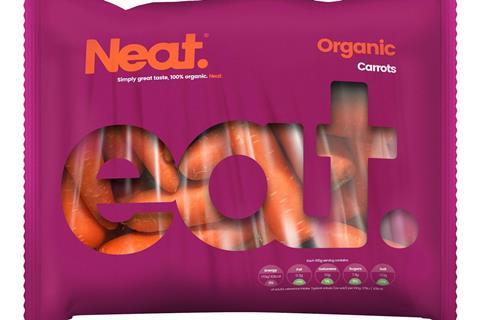 New organic fruit & veg brand Neat has secured its first listings in Ocado.
A five-strong range of veg SKUs under the Neat brand went on sale in late last month, in a bid to attract "environmentally conscious" consumers who want to eat organic without breaking the bank.
Its kitchen staple red onions (300g), white onions (300g), carrots (300g), white potatoes (600g), salad potatoes (350g) became the first products to roll out, all with an rsp of 99p.
The brand is a joint venture between Produce World subsidiary Burgess Farm Produce and organic farming businesses from around the world. Neat also has ambitions to roll out fruit lines, including apples and clementines and organic vegetable juices.
It aimed to make organic produce affordable by producing smaller packs in 100% recyclable materials, which it hoped would also minimise food waste, the brand said. Meanwhile, its eye-catching pink packaging featured traffic light labelling and aimed to bring a contemporary offer to the fresh produce fixture.
The Norfolk-based brand is sourcing from organic root veg suppliers in the UK when possible, and importing from destinations including Egypt, Italy, Spain, the Netherlands and Israel out of season.
It comes amid a push to bring more brands into the produce aisle, with G's set to bring its brands to the UK and berry supplier Chambers considering branding for its new snacking range.