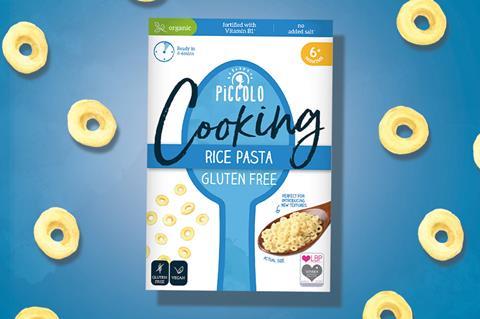 Piccolo is boosting its free-from range with its first gluten-free pasta.
The pasta, which is made from rice, is touted as melting down "to a soft texture when cooked" which the brand said was "ideal for adding new textures to little ones' meals".
It has joined Piccolo's cooking range, which already includes numerous free-from products such as dairy-free sauces and gluten-free stock cubes.
It was "important that Piccolo offers parents an inclusive range of products", said Piccolo co-founder Alice Fotheringham.
"Mealtimes aren't always smooth sailing, so having a balance of accessible and intolerance-friendly products gives parents everything they need to cook easy meals from scratch with confidence."
Piccolo founder Cat Gazzoli added: "As a mum of two, I know how difficult it can be to spot signs of intolerances early on.
"That's why I wanted to add a gluten-free pasta option to our existing cooking range, so parents can have suitable options for their baby's feeding journey."
Piccolo has spent recent years growing its range to cater for not just babies but children too. Last year it launched a nine-strong range of home-cooking SKUs designed specifically for babies and toddlers.
It has also grown its range of baby snacks, adding Banana & Cocoa Oaty Bars and a duo of Multigrain Puffs – Tomato Rings and Carrot Stars – to its portfolio last September.