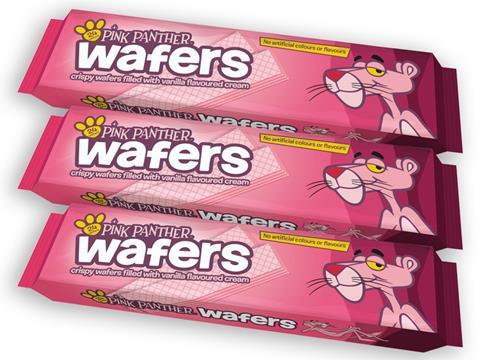 Pink Panther Wafers are set to return to shelves with a new taste, a revamped design and a new owner, six months after the product's previous manufacturer went into administration.

Available in the UK since the 1990s, the snack has been out of production since Wigan's Rivington Biscuits collapsed in December. It will be rolling out again in June, after Middlesex distributor Asvina secured the UK & Ireland grocery licence for the character from MGM.

With an rsp of 70p, the revamped product has been reformulated to include a thicker layer of vanilla cream. But the pack's weight remained at 185g because the extra filling weighed so little, said Asvina co-MD Prasheel Kunwardia. While flavour had been "improved", the biscuit remained largely unchanged following feedback from Pink Panther Wafers' "loyal customers".

With a new pack design, the biscuit will also be available in a price-marked 110g format for 50p, aimed at the convenience channel.

The supplier plans to add a reduced-sugar version "in the near future" - and other products beyond the wafer biscuit, said Kunwardia. "Asvina will build upon the Pink Panther heritage to drive sales across multiple food and drink categories. There are plenty of opportunities to create exciting new products."

Asvina was founded in 2009 by Kunwardia and Priavadan Varsani to supply supermarkets, wholesalers and discounters. It took on the Pink Panther licence after Rivington folded with the loss of 99 jobs.