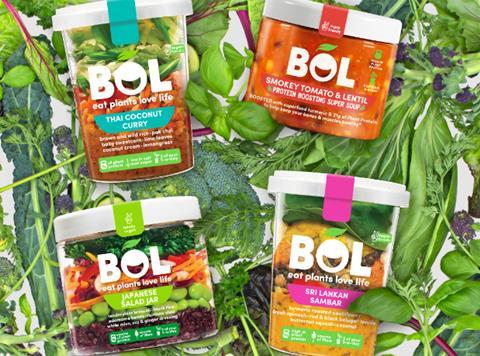 Premium pot meal brand Bol Foods is to go 100% vegan this summer – a year after axing meat and fish from its recipes.
From June, Bol's salads, soups and ready meals will be entirely plant-based, dropping dairy-based ingredients from all products, to tap the fast-rising demand for convenient vegan-friendly food
Last May, the pot meal business announced it would remove meat and fish from all its dishes, relaunching two months later as vegetarian with several vegan lines. Six Bol recipes will now be "reinvented to be entirely plant-based" to bring them in line with the rest of the portfolio.
The switch to 100% vegan was the first of its kind by a UK fmcg brand, claimed Bol. Dropping dairy would save almost 200 tonnes of C02 emissions each year and seven million litres of water, according to brand founder Paul Brown, former Innocent head of food.
Bol was "taking a risk by committing to completely plant-based recipes" he said. "However, it's a risk we are willing to take. We could no longer ignore the impact that dairy farming has on our environment."
The reformulated meals were developed in collaboration with nutritionist Ian Marber. A plant-based diet had "always been challenging unless you cook everything from scratch" he said. "The lack of convenient choices on the shelves" was also an obstacle. However, Bol's latest commitment would make "plant-based foods even more accessible, affordable and delicious" Marber added.