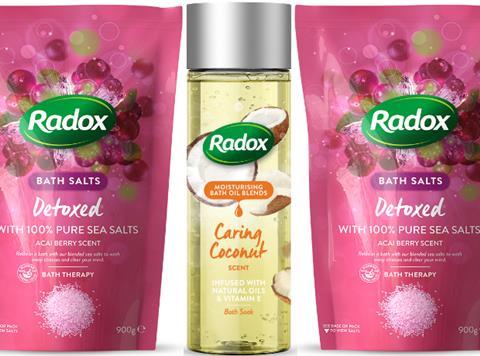 Radox is cashing in on Brits' love of a sensuous soak with the launch of bath salts, bombs and oils.
Rolling out in mid-July, the new Radox Bath Me-Time range is aimed at "the growing number of consumers who want a luxury bathtime experience to help wash away the stress of everyday life".
The lineup of nine SKUs was "inspired by nature" and the first from a mass-market brand to include bath oil, claimed Radox.
It comprises Moisturising Bath Oil Blends (rsp: £4) in Revitalizing Eucalyptus, Caring Coconut and Soothing Rose fragrances; Bath Salts (rsp: £5) in Muscle Relax with Peppermint Scent and Detoxed with Acai Berry Scent; and Fragrance Explosion Handmade Bath Bomb (rsp: £2.50) in Tropical Mango, Dreamy Watermelon, Calming Lavender and Pampering Rose.
Me-Time packaging features messaging such as '100% nature inspired fragrance' and 'handmade'. The oils include a cap that "provides the perfect dosage measure", while the salts come in a resealable bag with a clear bottom.
"Nearly half of people bathe to relax and recover, demonstrating that baths aren't just relevant during the cold winter months but all year round," said James Griffin, marketing director for skin cleansing & care at Radox owner Unilever.
Me-Time was designed to tap "recovery and experiential need states" she added. It would appeal to those who shopped in the skin cleansing category and liked to experiment with "exciting new fragrances and different formats".