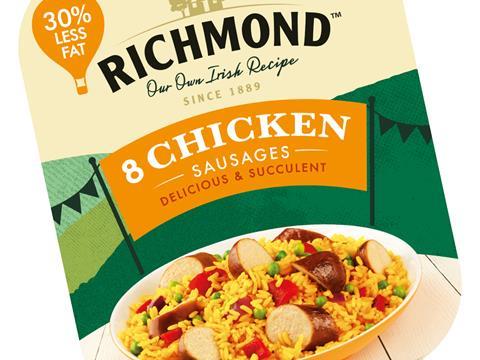 Irish sausage brand Richmond has launched a chicken option in a bid to appeal to health-­conscious consumers.

Packs of eight chilled chicken sausages began rolling out across the major mults this week (rsp: £2.50/400g).

Containing 52% chicken, with a beef collagen casing, they contain 30% less fat than Richmond's thick pork sausages, at 10.3g of fat per 100g compared with 16g. They also contain 30% less salt, 20% fewer calories and are higher in protein than their pork alternatives.

Richmond said it was "quietly optimistic" about the potential for the NPD, which promised to deliver "same delicious taste" of its pork sausages.

"There's been a noticeable attitudinal shift towards chicken ­sausages over the last couple of years," said Kerry Foods marketing director for meats Dawn Spencer.

It follows similar launches from premium sausage brands like Heck and Debbie & Andrew's in recent years, as demand for healthier bangers grows. Chicken overtook sausages as the UK's second favourite BBQ meat last year.

"We looked into NPD in this space in 2015, but the timing wasn't quite right for our family audience," said Spencer. "However, families of today are increasingly interested in leaner, healthier proteins, so it's no surprise the chicken sausages market is becoming a highly lucrative one."

The new sausages will feature in Richmond's £2m 'Nation's Favourite' advertising campaign spanning TV, digital and in-store media.