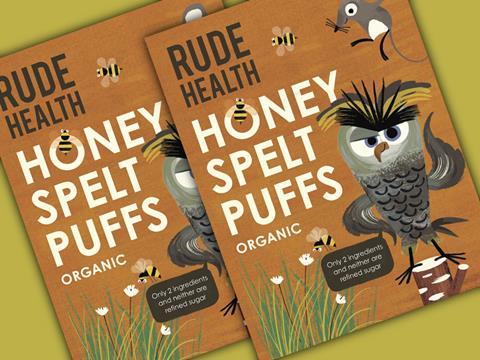 Rude Health is making its first foray into children's cereals in a bid to offer a healthy alternative to sugary products currently on shelves.

The organic Honey Spelt Puffs will be available from Waitrose nationwide from the beginning of May, followed by independents later that month (rsp: £2.85/175g).

Targeted at kids aged two to 10 years old, the new variant comes in "child-appealing packaging" featuring two new animated brand ambassadors - Owl and Mouse.

It is made with 86% spelt and 14% honey and contains no added salt, with 11.9g of sugar per 100g (from honey).

"Up until now, manufacturers have made children's cereals over-complicated in terms of both the number of ingredients and the supposed health messages," said co-founder Nick Barnard.

"Our approach is to keep the ingredients and the messages short and simple so parents can make their own choices."

He added the decision to make cereal sweeter by adding honey, maple syrup or fruit, was "best left in the hands of parents".

Further kids' cereals and drinks were planned for later this year, Rude Health said.

"Honey Spelt Puffs is our first children's food," added Barnard. "What's so exciting is that it is the first of many children's foods in Rude Health, and all have been created with the same ethos - to make healthy eating exciting - for all the family."

Launched 10 years ago, Rude Health saw sales increase 45% over the past year to £12.5m.