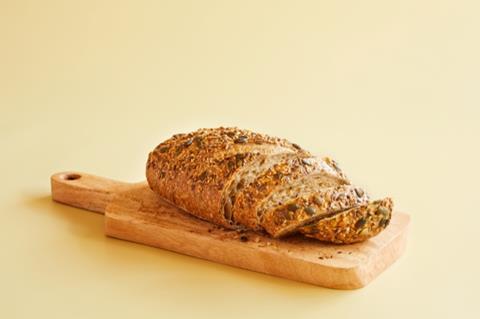 Sainsbury's has added Leon SKUs to a further 62 of its in-store bakeries.
The supermarket is expanding its link-up with the healthy fast food chain from 32 stores to 94, and introducing a new product as part of the initiative.
Leon's brown seeded sourdough (rsp: £2.85) is exclusively on sale at the bakeries. It is a mild loaf that combines rye and malt flour to create a slightly sweet, nutty bread with a mild tangy taste. The loaf is also made of 7% courgette to keep it moist.
These additions come alongside several Leon retail items available in Sainsbury's stores. The line-up includes: Gluten Free Chicken Nuggets; Beetroot Ketchup; Tamarind Brown Sauce; Super White Sourdough Loaf; Quinoa Sourdough Long; Sweet Potato & Carrot Sourdough; and Rye Pumpernickel Sourdough (rsp: £2.50-£9).
The range is part of Sainsbury's ongoing Future Brands drive, through which it is looking to differentiate its product offer with a growing roster of smaller, more "distinctive" suppliers.
"We're excited to be rolling out across an extra 62 in-store bakeries within Sainsbury's stores," said Charlotte Di Cello, chief commercial officer and MD of Leon Grocery. "It's been our mission to make food that tastes and does good more widely available, and this expansion will allow even more customers to access Leon's delicious bakery products."
Emma Williams, head of future brands origination and investing at Sainsbury's, added: "We're always looking for ways to offer our customers new and innovative products. We are really pleased to continue to build on our ever-expanding range of Leon products to now offer their bakery products in further in-store bakeries."