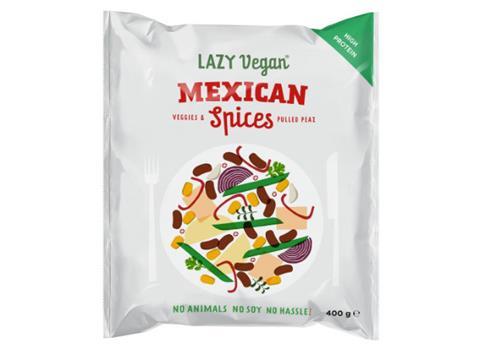 Sainsbury's is gearing up to take advantage of an influx of plant-based shoppers with the launch of a raft of new vegan products.
The retailer is set to roll out a 25-strong addition to its vegan offer from tomorrow (31 December), featuring branded and own-label SKUs. The move marks the fourth expansion of its plant-based lineup since its 'next generation' range was unveiled almost a year ago.
The retailer has added 10 products to its own-brand vegetarian Love Your Veg range, including three vegan pizzas with toppings BBQ Jackfruit & Mushroom, Spicy Masala Chickpea and Roasted Butternut & Charred Broccoli (rsp: £3.80) and two vegetarian pizza bases made with beetroot and kale.
A chorizo-style variant of its own-label Shroomdog range of vegan sausages, jackfruit quarter pounders and mushroom-based Shroomballs with jackfruit are set to be among the highlights of the Sainsbury's bulked up meat-free offer, it said.
Meanwhile, US seafood alternative brand Sophie's Kitchen will make its UK debut in Sainsbury's as part of the extension, with the launch of its Sophie's Kitchen Prawns (250g) and Sophie's Kitchen Smoked Salmon (113g) – both retailing at £3.50.
It will also roll out four products by Dutch brand Lazy Vegan, featuring ready meals and ingredients (rsp: £2.25-£3.50). The brand uses pea protein to create its meat alternatives, eschewing soy and gluten.
It comes after the retailer announced it would become the first British supermarket to list Canadian meat alternative brand Gardein, which is set to roll out next month as part of Sainsbury's plant-based NPD push.
"With more than seven million vegetarians in Britain and the meteoric rise of the flexitarian lifestyle, Britain has certainly got the taste for meat alternatives at meal times," said Sainsbury's product developer for plant-based, Rachael Matthews.
"Our new range of plant-based products provide innovative and truly delicious options – from the juicy jackfruit quarter pounder to flaky Fishless Filets – to take the hassle out of cooking flexitarian."
Sainsbury's vegan range now totals in excess of 100 products, following an 82% increase in customers searching for vegan products online compared with last year, said Sainsbury's. During the same period, it experienced a 45% increase in sales of plant-based products, as customers increasingly considered a vegetarian, vegan or flexitarian lifestyle.