Beer lovers looking to cut down their alcohol intake this Dry January need not sacrifice taste or craft credentials. Here's our pick of the latest booze-free brews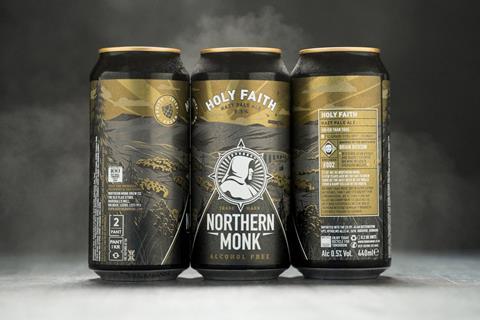 Holy Faith
After spending a year developing its recipe, Northern Monk has this month released Holy Faith, an alcohol-free take on its flagship beer, Faith. Brewed with Citra Cryo and El Dorado hops, the 0.5% abv beer is billed as having a "silky mouthfeel associated with New England styles", along with "notes of lemongrass, citrus zest and a light peppery finish". It can be purchased from the brewer's website in single cans and packs of six, 12 and 24 (rsp: £2/440ml).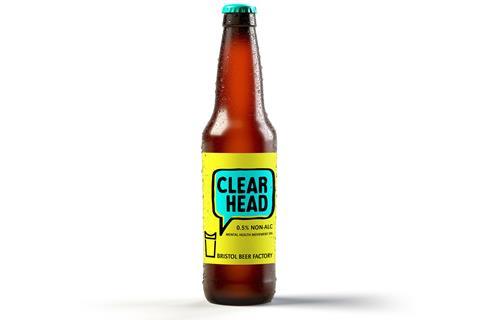 Clear Head
"This liquid will save lives." That's according to Bristol Beer Factory, which launched its first alcohol-free beer this month. Called Clear Head, the IPA is a collaboration between the brewer and men's mental fitness charity Talk Club, who will recieve 5% of the proceeds from every bottle or pint sold. Made with Citra and Mosaic hops and added lactose for "a subtle smooth creamy sweetness", the 0.5% abv beer is available to buy through the brewer's website (rsp: £2.20/330ml).
Teapigs x Toast
This 0.5% abv Lemongrass Lager is the result of a tie-up between Teapigs and Toast Ale, which brews beer from surplus bread. The lager – which is made using Teapigs' Pure Lemongrass tea – is part of Toast's Rise Up series, which has previously seen it collaborate with Divine Chocolate. The vegan beer launched on Toast's website this month in packs of six, 12 and 24 (rsp: £21-£72) and single cans are stocked in Selfridges (rsp: £2.99/440ml). It is also being sold on tap at Waitrose's four Unpacked stores, where customers can fill their own bottles with the beer.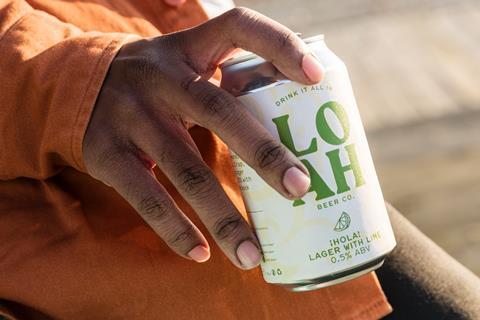 Loah
Started as a lockdown project after founder Hugo Tapp decided to reduce his alcohol consumption, Loah debuts this month with its first booze-free beer. Low in sugar and containing fewer the than 40 calories per can, Hola is a "crisp, clean and refreshing" 0.5% abv lager topped off with a squeeze of lime. It is available to buy from the brewer's web store (rsp: £2/330ml).
Elvis AF
Craft beer giant BrewDog has kicked off 2021 by putting an alcohol-free twist on one of its flagship beers, Elvis Juice. Promising "all the flavours of its stronger sibling, but none of the alcohol", Elvis AF features notes of orange and pine and a "solid malt base foundation". It is stocked on the brewer's web store in four-packs (rsp: £3.75) and will also feature in BrewDog's AF bundles.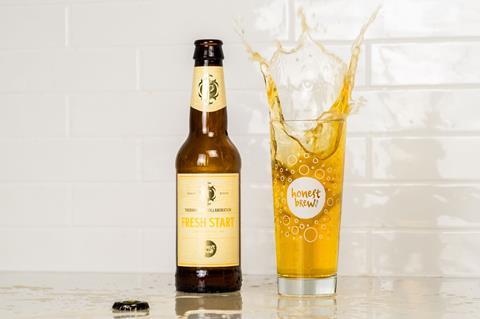 Fresh Start
"There are plenty of reasons to forget about 2020, but the growth of the low/no alcohol category isn't one of them." So says craft beer retailer Honest Brew, which has teamed up with Thornbridge Brewery for this alcohol-free IPA. A "flavourful and aromatic" ale brewed with Citra and Mosaic hops, Fresh Start is available on the Honest Brew website from this month (rsp: £1.99/330ml).