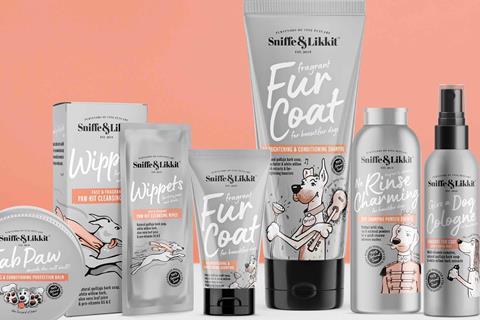 Startup Sniffe & Likkit is aiming to cash in on Brits' humanisation of their pets with dog grooming products inspired by the fine fragrance and personal care categories.
The five-strong range – which includes shampoo and balm – is formulated to be pH-balanced for dogs' skin. Each product is at least 91% natural and contains the likes of aloe vera leaf juice, quillaja soap bark extract and white willow bark extract.
The lineup features dry shampoo No Rinse Charming (rsp: £14/90g) and Give A Dog Cologne, a fragrance with natural essential oils, conditioning agents and botanicals (rsp: £14/125ml).
They are joined by Fab Paw, a conditioning and soothing balm (rsp: £14/75g); Fragrant Fur Coat, a brightening and conditioning shampoo (rsp: £14/250ml); and Wippets cleansing wipes (rsp: £7/10 sachets).
The range offers Sniffe & Likkit's own scent, Woodland Wonderfur, which was created by aromatherapists specialising in animals. It is a blend of cedarwood, vetiver, petitgrain, juniper berry and ho leaf. The scent imparted "a woodland aroma that appeals to both hounds and humans – and which helps calm dogs when washing and grooming" said the startup.
It had developed its lines "with the attitude of 'let's start with the dog's needs'" said Sniffe & Likkit co-founder Lee Sargent. "It's radical for this category."
Other grooming products were formulated "more to protect the human hands that are applying them, with little or no concern for what's good for a dog's skin or coat" he added. "That's also true as regards the scents used: dogs hate citrus, for instance, and why we use a naturally woody scent."
Sniffe & Likkit is available now from Ocado, Fetch.com and independent pet shops. The brand hopes to grab a share of the "hound pound" – the UK's dog care market that is likely to be worth £1.1bn by 2021, according to Mintel.
"We've put ourselves at the heart of the British pet boom to really unleash the opportunity in the premium petcare category," Sargent said. "With 67% of pet parents willing to pay more for better-quality, more natural products, our range appeals to those who treat their dog like one of the family."