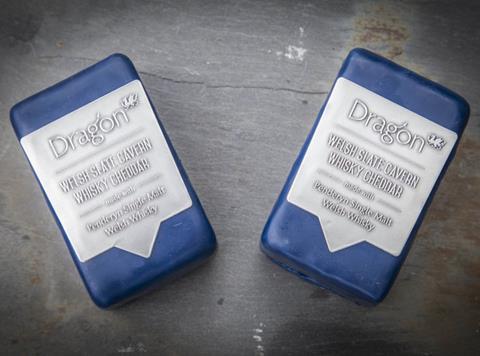 South Caernarfon Creameries has teamed up with Welsh whisky brand Penderyn for a new booze-infused cheese.

The Welsh dairy co-op launched its cavern-aged Dragon cheddar, laced with single malt, at the Royal Welsh Show this week to coincide with its 80th anniversary.

Its specialty cheese is infused with Penderyn Madeira Finish whisky, which is aged in ex-bourbon barrels and finished in Madeira wine casks and set to go on sale in a range of independent retailers across Wales over the coming weeks.

"The heritage and the provenance of our products here in Wales is very important to us so we wanted to use a Welsh whisky and of course Penderyn was the natural choice, especially as they are opening a new site in North Wales," said South Caernarfon Creameries MD Alan Wyn Jones.
"We chose Madeira Finish as it has a slightly sweeter flavour which really complements the Llechwedd aged cheese. This is a luxury product, at the premium end of our range to appeal to cheese lovers who appreciate a mature, complex flavour."

It comes as the creamery unveiled a rebrand of its flagship Dragon cheddar brand to emphasise its provenance further with the addition of a map depicting the creamery's location and new tagline 'Welsh milk from Welsh cows fed in the lush green pastures of Wales'.

The co-op also launched a recruitment drive to increase its number of farmer members as sales hit £45.1m in 2017/18, up from £33.1m the previous year. It follows the creamery's £12m investment in a new cheese production facility to increase its capacity, processing more than 100 million litres of milk each year.