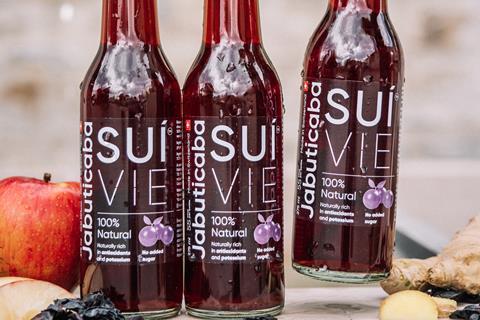 Soft drinks startup Suívie is hoping to shake up the category with what it claims is a "totally unique" new drink.
The drink – called Suívie Jabuticaba – is made with a combination of jabuticaba berry, Swiss apples, ginger and water from the Alps.
It said the Brazillian jabuticaba berry was "much coveted" by Brazillians and was packed with vitamins C & E as well as antioxidants, potassium, iron and magnesium.
Suívie Jabuticaba was the only brand and product to use the berry in the UK, it claimed.
Founder Christophe Bosiers said the drink not only had "a variety of health benefits", but also a "competitive edge with its rare berry and ingredients sourced directly from farms in Switzerland and Brazil".
"It's perfect for those craving a drink with provenance and transparency," he added.
Suívie Jabuticaba has launched into Whole Foods Market in a bottle format (rsp: £1.99/275ml), containing no added sugars, sweeteners, colours or preservatives and coming in at 49 calories per bottle.