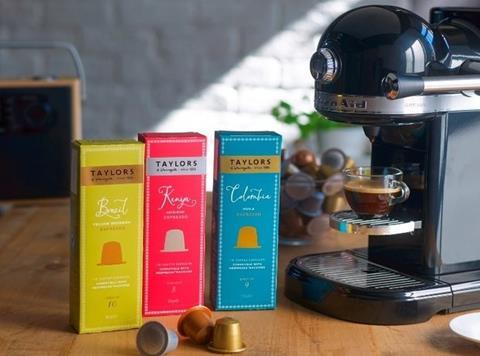 Taylors of Harrogate is launching its first Nespresso-compatible coffee pods, setting out ambitions to become the biggest player in the retail market.
From next month, the Yorkshire Tea and Taylors coffee brand owner will roll out three single-origin pod coffees (rsp: £2.99 for 10) to Amazon, Waitrose and Sainsbury's.
Reflecting Nespresso's own direct-to-consumer model, Taylors is also launching an online shop next month that will enable consumers to order the capsules.
"We have found that for customers who enjoy convenience, being able to order online and having it delivered straight to the door is important for repeat purchase," said brand manager Liz Skilbeck.
Taylors is entering what has rapidly become a crowded market. In less than two years, Nespresso-compatible pods have been launched under brands including Carte Noire, Cafédirect and CaféPod. Grocery coffee pod sales have soared 42.8% year on year to £32.1m on volume sales up 34.7% [IRI 12w/e 28 March 2015]. Meanwhile, market penetration has risen from 9.1% to 11.9%, according to Kantar Worldpanel [52w/e 29 March 2015].
The pods were fully compatible with Nespresso machines, said Taylors, adding it had invested in consumer research with Nespresso consumers over the past two years to ensure the quality of the coffee and capsule met their needs. Taylors said it was the first retail brand to sell an airtight 'closed' capsule that did not require an overwrap.
"At Taylors we obsess about quality, so cutting corners isn't an option," said Skilbeck. "We stayed committed to the bigger picture, developing a 'closed' capsule that genuinely stands up to Nespresso on product quality."
"Our research showed a capsule with an overwrap was instantly rejected by most people as a substitute to Nespresso," she added. "With this in mind, we've created airtight capsules that don't require an overwrap to deliver a slim, elegant pack with strong consumer appeal, and efficient use of shelf space. They can be displayed in the home in the same way as Nespresso capsules."
The three initial coffee varieties - Kenya, Brazil and Columbia - are made from 100% Arabica coffee and are Rainforest Alliance certified. They follow the launch of Taylors single-origin roast and ground coffee last year.
"With a number of big players already in the coffee pod market, we have invested time refining our offering, creating products that boast an exceptionally high level of quality and intensity of flavour," said Skilbeck.
With its Taylors Lifestyle the top-selling roast and ground brand [The Grocer's Top Products Survey 2014], Taylors said it could also take top spot in Nespresso- compatible pods. "Once Nespresso drinkers are aware of our product and have trialled our coffees, we're confident they will repeat purchase," said Skilbeck.
The launch comes as overall sales of Taylors coffee are flat at £40.1m, with volume up 3.1% [IRI].