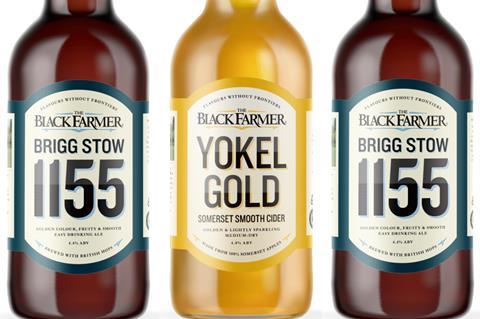 The Black Farmer is debuting in the booze category.
The brand's founder Wilfred Emmanuel-Jones has partnered with Bristol-based Dawkins Ales to create a duo of drinks marking Black History Month.
Brigg Stow 1155 is a 4.4% ale brewed with English Bramling Cross hops, while Yokel Gold is a 4.8% cider made with Somerset apples.
The former is billed as a "well-balanced" beer with a "spicy, fruity aroma and flavour", while the latter was medium dry with "a full, lingering flavour", according to The Black Farmer.
Emmanuel-Jones said he had been eager to move into alcohol "for some time" and had been searching for a partner brewery.
"It was important to find a brewery in the Southwest which is the heartland of The Black Farmer brand. For years now Dawkins Ales have been building up a reputation for making great tasting beers and cider and have many awards to show for their endeavours."
Discovering that two of the founders were black "was a surprise and an added bonus", he added. "Black farmers, black brewery founders are few and far between."
"We want to take this opportunity to showcase what we as black businesses can achieve in what is an industry where there are very few people of colour."
The drinks have rolled out in 500ml bottles, and are available directly from The Black Farmer. Emannuel-Jones plans to launch the drinks into independent and major retailers further down the line.