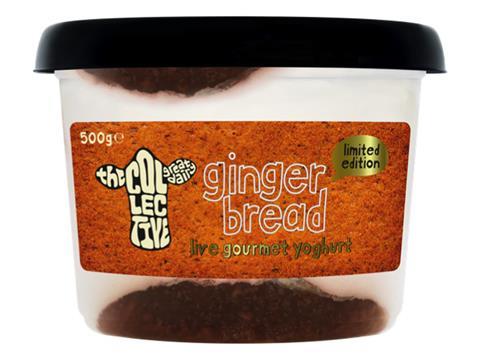 Gourmet dairy brand The Collective has launched a UK-first gingerbread flavour yoghurt.
The limited edition yoghurt was designed to tap into demand during the winter months for gingerbread-flavoured products - particularly during Halloween and Christmas - and goes on sale this week in Waitrose, Tesco, Sainsbury's, Ocado, Whole Foods Market, Booths, Asda and Nisa (rsp: £2.39/500g pot).
The yoghurt, which The Collective claimed was the first of its kind to be launched in the UK, contains 5% fat and was inspired by fresh gingerbread men and Jamaica ginger cake. It pairs yoghurt with a double layer of golden brown spiced compote that "balances the sweetness of soft brown sugar with notes of stem ginger, ground spice and cinnamon", giving a "unique warming flavour", the company said.
"At The Collective we try and spice things up with our limited editions and this flavour and texture evokes happy memories for many of us, with its distinctive taste and fragrant aroma," said The Collective co-founder Amelia Harvey.
"Brits emotionally connect with baking gingerbread men as children, eating spicy Jamaican ginger cake for afternoon tea or decorating a gingerbread house during the festive season."