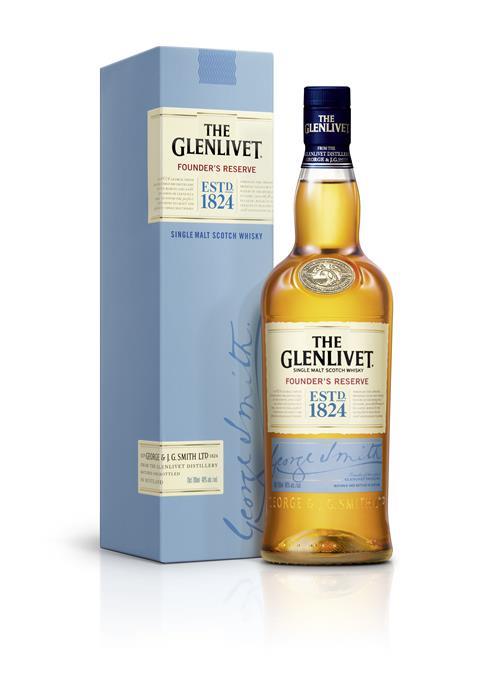 Pernod Ricard-owned single malt whisky The Glenlivet is launching a new entry level expression, Founder's Reserve.
The whisky, which will replace The Glenlivet 12 Year Old in the UK, is named in honour of George Smith, who founded the Glenlivet distillery in 1824. It uses a higher proportion of whisky from first-fill American oak casks than 12 Year Old, lending some flavour similarities to bourbon.
Founder's Reserve is available now exclusively from online retailer The Whisky Shop. It will roll out to retailers from next month as remaining stocks of 12 Year Old are sold, with the transition expected to be finished by June. At £33.39, the two bottles carry the same rsp.
The Glenlivet's international brand ambassador, Ian Logan, said that the new expression had been designed to make single malt both less intimidating and more versatile for consumers.
"It's aimed at people who want to come into the category, but also people who want to go out for a night, sit down and have single malt, but who aren't wanting to have this hugely complex dram," said Logan.
"What we're trying to say is consider any option. There's no reason you can't use it with cocktails, drink it with water or over rocks. It's there for you to do whatever you want to do, and hopefully that initiative is going to open the door to more people coming in from blended whisky, from Irish whiskey, from bourbon."
The launch will be supported with in-store merchandising, a digital campaign featuring videos, stories, and serve suggestions, and dedicated activity around Father's Day.
Retail sales of The Glenlivet were up 6.2% last year [Nielsen 52 w/e 3 January 2015], while on-trade sales in the same period were up by a third. It is the number three single malt in the UK, after Glenfiddich and Aberlour.