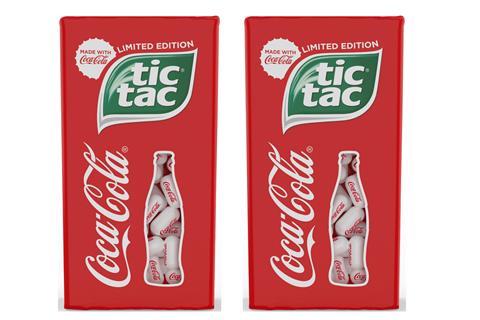 Ferrero has teamed up with Coca-Cola to create limited-edition Coca-Cola Tic Tacs.
The NPD is billed as the first mint with "the refreshment of Coca-Cola", and brings the Coke brand into the sugar confectionery category for the first time.
The mints had an "incomparable taste experience" which combined Coca-Cola with the "instantly recognisable shape and format of Tic Tac", said Fererro.
They will roll out into retail in three pack sizes: 18g (rsp: 62p), 49g (rsp: £1.41) and 98g (rsp: £2.70).
The 49g packs have rolled into Co-op stores, with Tesco, Morrisons and Sainsbury's to follow in June.
The smaller packs (18g) will be available predominatly through wholesale, while the larger packs (98g) would be available in discount stores.
The range would be available in more than 70 countries worldwide, said Ferrero.
The launch is to be supported by a worldwide communications plan including PR and in-store and digital activity.