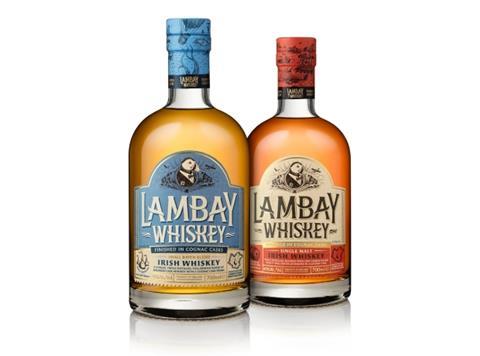 Recently founded drinks distributor Tortuga has added Irish whiskey brand Lambay to its roster.
The brand launched this week with two SKUs: Lambay Small Batch Irish Whiskey and Lambay Single Malt (both 40% abv). They will be targeted at national wholesalers, independents and online retailers.
The liquids are made with Trinity Well water from Lambay Island, near Dublin, and finished in Cognac casks from the cellars of French producer Camus, which is a joint owner of the brand.
Small Batch Blend is made with malted barley and grain whiskeys, triple distilled and matured in bourbon barrels before being given the Cognac cask treatment, while the single malt was "a deliciously smooth yet complex unpeated malt whiskey", said Tortuga. They are priced at £34.95 and £52.50 respectively.
Tortuga founder Peter Davie said the Cognac cask ageing process gave the liquids "a complex flavour". The label is adorned with illustrations of the puffins that live on the island.
"I have known and worked with Camus on several occasions in the past," said Davie. "We share a knowledge and aspiration to build brands through accessing consumers in top-quality on and off-trade accounts where quality and differentiated product is recognised and appreciated."