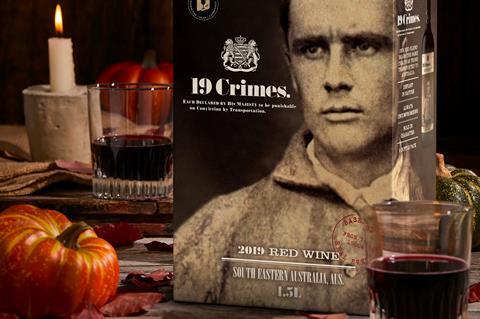 Treasury Wine Estates is pouring its 19 Crimes brand into bag-in-box.
The brand, whose concept centres on prisoners exiled to Australia in the 19th century, has added a 1.5-litre box of its 14% abv red wine, which has rolled into Tesco and Morrisons (rsp: £18).
The new format was developed "to offer a premium and sustainable format option to the brand's engaged millennial audience, as an introduction to the fast-growing bag-In-box category", said the brand, citing data that showed the bag-in-box category had recruited 40% more shoppers than it has lost over the past two years [Kantar 52 w/e 12 July 2020].
19 Crimes has arguably been one of the wine sector's greatest success stories of past years. Since its launch in 2015, it has proved incredibly popular with younger shoppers.
In the past year alone, its sales have more than doubled, growing a whopping £21.9m (108.7%) to £42m [Nielsen 52 w/e 5 September 2020].
19 Crimes had a "proven track record for driving value and volume growth" in the category, said Treasury Wine Estates EMEA head of marketing Ben Blake. "The new format provides a convenient, premium and sustainable alternative for this audience, whilst catering to the all-important sharing occasion."