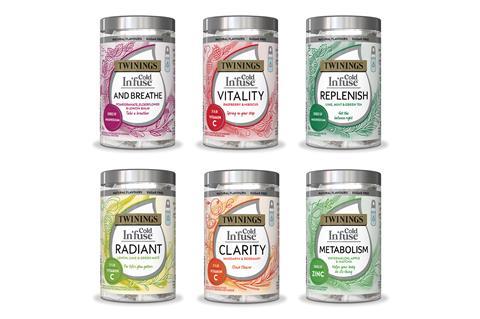 Twinings has added a range of 'fortified teas' to its Cold In'fuse lineup.
The range includes six flavour blends: Vitality, Radiant, Clarity, Metabolism, Replenish and And Breathe, each billed as containing a vitamin or mineral designed to help "support daily wellbeing".
Three of them – Vitality, Radiant and Clarity – contain 60mg of vitamin C, some 75% of a person's recommended daily intake.
They are sugar free and vegan-friendly, and can be infused in still or sparkling water.
They hit Waitrose this week (rsp: £4.49/12 bags), with Sainsbury's to follow on 10 May.
The range had been developed to "encourage people to change up their daily routines and reach their wellness goals" said Twinings.
It would "support" shoppers hitting daily water targets, while "making drinking water more enjoyable at home".