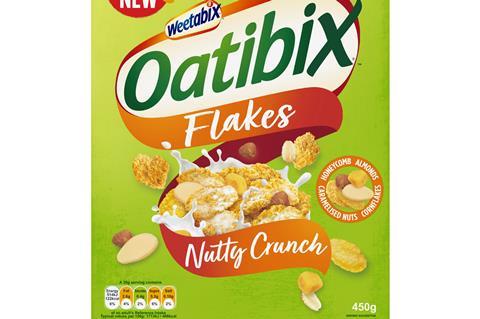 Weetabix is relaunching its sister brand Oatibix – and launching a new non-HFSS Nutty Crunch cereal to battle Kellogg's Crunchy Nut.
The longstanding Weetabix spin-off will be given a new look from February as well as a recipe reformulation to make the cereal "crispier and lighter".
The reimagining will see a new SKU, Oatibix Nutty Crunch, added to the Oatibix range. The cereal, due to roll out from 28 February, comprises honeycomb pieces, honey-coated corn flakes and caramelised nuts. It is non-HFSS and touted as a source of fibre as well as being low in salt (rsp: £3.29/450g).
New packs feature "a striking and category-unique green" which it said would "highlight the brand's trusted nutritional credentials with no red traffic lights on the front of the pack".
Weetabix may be the UK's biggest cereal brand, with value sales of £151.4m over the year to 11 September, but Oatibix commands a significantly smaller market share, with its sales hitting £8.9m in the same period (down from £9.7m the prior year) [NielsenIQ].
The refresh would allow the range to "stand out on fixture, whilst ensuring it remains recognisable to our base of loyal consumers", said Weetabix head of marketing Gareth Turner.
A new TV advert will also air in 2022 as part of a wider £2m investment into marketing.
Turner said Weetabix was "hoping the activity will introduce our products to 600,000 new households this year" and that the supplier had ambitions to grow the brand by over 30% by 2023.
Oats were "a signpost for healthy eating, and this innovation offers great health nutritionals, as well as performing incredibly strongly in our taste tests", he added.
"As the whole Oatibix range is HFSS-compliant, we can put our full support behind the brand refresh, through online and in-store shopper marketing, the upcoming TV advert and on social media."